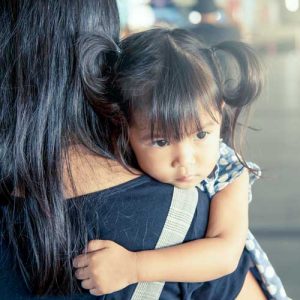 Linda is a mother of one, who had endured years of physical and psychological abuse by her husband. After making the courageous decision to leave and obtain an Order of Protection, she was in need of a safe and supportive environment in which her daughter could visit her father.
Linda and her daughter Jennifer were referred to SPCC's Supervised Visitation Program (SVP). The SVP provides the safety features that Linda's family needs – separate entrances and lobbies, staggered arrival times, metal detectors and cameras.
The SVP has staff who are knowledgeable about the dynamics of domestic violence and who can balance the need for safety with the need for quality time between children and their non-residential parent. Linda has expressed that prior to coming to SPCC, other organizations were not able to account for her safety the way the SVP does.
Jennifer is old enough to remember much of the violence in her home and has felt the need to keep her mother safe. She needs someone that will listen to her wants and needs regarding visitation, and support her in her interactions with her father. SVP provides safety and consistency during Jennifer's visits with her father, fostering healthy interactions without the fear of being witness to more parental violence.