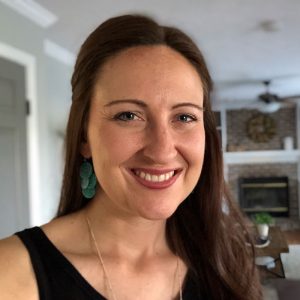 I started at SPCC in 2000 as an intern in the TAPSS program working with young parents and their babies – one of my absolute favorite things I've done here! I like to say that when you find a good place, you try and stay. So, after graduating from Roberts Wesleyan College in 2001 with my degree in Social Work, I accepted a full-time position working in both the TAPSS program and in the Supervised Visitation Program. Over the years I've had the privilege of working in a number of roles here at SPCC including TAPSS counselor, Supervised Visitation Specialist, FTIP intern, TAPSS Supervisor, Incredible Years Parenting trainer and Director of Evaluation. In addition to my work with SPCC, I have also worked for 15 years in the field of adoption, helping children find their forever families.
I'm passionate about this work because I believe people are important and need someone to believe in them when they are struggling. One of my favorite things in life is to watch others as they begin to believe in themselves and then go on to surprise those around them as they accomplish great things. I believe people's lives can make miraculous turn arounds when provided support and true care. At SPCC we all put our heart and soul into the work we do and are passionate to see the youngest ones in our community kept safe, heal and rise above the often heartbreaking circumstances they find themselves in. As a member of SPCC's Leadership team, I have the privilege of supporting an amazing team of professionals who work hard at what they do and are often only seen by the children and families they serve.
When I'm not at work you can find me hanging out with my husband and two boys, tackling a home improvement project, cooking up something new or chatting over a strong cup of coffee with a good friend.