Another Bright Light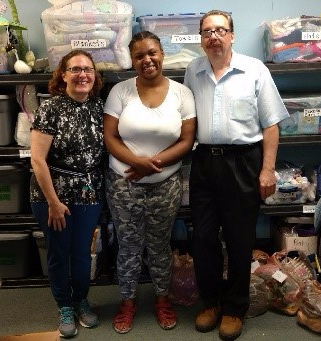 Allow us to introduce you to another bright light here in Rochester:  A ministry called MINO – Mothers in Need of Others, that has proven invaluable to many of the young families we provide services to. Below you will find a message from MINO's founder, Maria Wehrle, describing what MINO provides, as well as sharing some ongoing needs they have that YOU may be able to help meet!  We also want to mention and highlight how appreciative we are to this ministry for not only partnering to provide much-needed household and baby items for families, but also for providing short-term work experiences for young moms in our teen parent program (TAPSS). Below is a picture of a young woman in our program who experienced her first day "on the job" at MINO this week, and was described by Maria as "a lovely person and a very hard worker". Thank you Maria and staff for providing these much needed opportunities for young moms in Rochester!
---
Hello SPCC Friends!
For those of you whom I haven't had the pleasure of meeting, permit me to introduce myself! My name is Maria Wehrle and I manage a thrift store out of Wedge Market of The Pillar Church at 46 Mount Hope Avenue where I also operate two outreach programs. The first of these is Mothers In Need of Others (MINO-pronounced: "minnow"). MINO was started in 2004 to meet the needs of single parents in the Rochester area. Through MINO we work with case managers and church outreach workers to assist them in providing FREE maternity, baby items, feminine and personal hygiene products, and household items to moms and their families. For a family to receive needed items, their caseworker or church contact just needs to email mothersinnneedofothers@gmail.com or call me at (585) 348-8596. If we have the item(s) needed, we can schedule an appointment for the caseworker or church contact to pick it up for the family! It's really that simple! No extra paperwork and a family's privacy is completely protected!
The second ministry is Furnished 4 Life. For families who have some income to purchase items, we operate the Furnished 4 Life Thrift Store. The store is open to the public, offering an array of new and "like new" items at drastically reduced prices. Our store hours are Mondays & Wednesdays from 10am-5pm, Fridays from 10am-2pm, and Saturdays from 1pm-5pm. We do have some furniture pieces and small appliances for sale in the store currently and are looking to expand our inventory in the near future, as we secure transportation and individuals to help us transport the items. Proceeds from our thrift store support job development efforts in the city!
We absolutely love the family atmosphere and close relationships we have developed with many of our client representatives. We would like to continue helping meet the needs in the community, but we need your help! We are in great need of the following items:
Baby and toddler clothes (Boys & Girls; size preemie-5T)
Baby Gear (cribs, car seats, strollers, high chairs, baby seats, etc.) – All are inspected, cleaned and recall checked!
Household items (dishes, drinking glasses, silverware, cooking utensils, pots & pans
Linens (sheets, blankets, towels, rugs, curtains)
Small appliances (microwaves, crock pots, coffee pots, electric skillets, fans, heaters, etc.)
Please help us spread the word to your friends, family, and neighbors who might be moving, downsizing, or looking to donate items after their garage sales!
Looking forward to meeting you!
Maria Wehrle
Furnished 4 Life/MINO ministries
(585) 348-8596