Have you heard what's coming?!?
Have you heard about what's coming back to Rochester for the third time on Saturday, May 13th?!  Listen to Your Mother, is a national project that this year is being brought to 29 cities across the U.S.  Local performers audition and share their beautifully crafted stories related to motherhood.  Stories of being a mother, wanting to be a mother, being mothered, joy, hilarity, loss, sadness; baring witness to these readings is truly a special and connecting experience.  The Lyric Theatre was packed to the brim last year and we expect the same for 2018; click the following link to purchase tickets before they run out! http://www.brownpapertickets.com/event/2886548
As we prepare for this year's body of personal work, written and performed by 13 of our very own Rochestarians, we will be sharing with you a few stories from last year's inspiring group.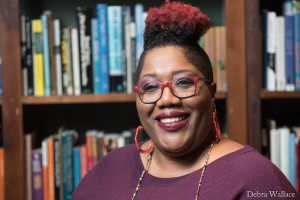 To start us off, we introduce Tokeya Graham.
Tokeya is a word wrangler of the most diverse sort: professor, poet, author, motivational speaker, editor, blogger, cultural critic, et cetera. She is currently employed at MCC in the English/Philosophy department. She is an avid volunteer with her own charitable entity (Charity ROCs) as well as sitting on the Board of Women's Foundation of Genesee Valley and the Advisory Council for Project YOU. She is wife to Kevin and mother to Kirk, Keilani, and Kristian.
Reading Tokeya's written word is simply not enough.  Please visit the link below to witness her full awesomeness through video.
https://www.youtube.com/watch?v=-9yzVwU9KSw&index=9&list=PL5oPQWgVdsDl5ykD4D1lMTC3dj1WDo4se
Learn more about Tokeya on www.soulstainableliving.com
FB: Soulstainable Living
FB: Charity ROCs Donations and Services Page
FB: Soulstainable Living: ROCFit Challenge