SPCC Benefits from Cobblestone Creek Country Club's Member/Guest Invitational
The Society for the Protection and Care of Children (SPCC) was chosen as the 2019 charity of choice for the July Member/Guest Invitational Event at Cobblestone Creek Country Club in Victor, NY.  Donations made to SPCC as part of this event were matched by Louis Fuchs, Cobblestone member and owner and President of Unilink, Inc. in Henrietta.  Unilink has been a longtime supporter of SPCC.  In total, SPCC received $31,052 from this event.  SPCC extends deepest gratitude to Cobblestone Creek Country Club's General Manager, Mike Surtel; Head Golf Professional, Neil Reidy; and event participants, as well as to Mr. Fuchs and Unilink for their generosity.
Lisa Butt, SPCC President and CEO, said "We are so very grateful to Lou and the members and friends of Cobblestone for their extremely generous support of our agency. We offer services to children and families whose lives have been impacted by violence, abuse, grief, poverty, malnutrition and teen pregnancy, and many of them depend on the support of the community for their most basic needs.  This money will assist us in helping the families we serve provide a safe, supportive living environment for their children, bus passes for doctors' appointments, baby care items and other vital needs that often go unmet for the most vulnerable members of our community.  These donations will also help provide the support needed to cover the costs for certification and training in the evidence-based models used by our therapists to treat the infants, children and families in our programs."
Mr. Fuchs said "The donation would not have been possible without the support and day to day contributions of Unilink's employees and customers.  In addition, the response and support from the Cobblestone Invitational Committee, management and golfers allowed a very simple idea to flourish into a very substantial contribution.  When I challenged everyone to support the kids in our community and that I would match their donations, they all responded with enthusiasm and generosity.   What makes it even better is SPCC told me that the ease and speed with which everyone stepped up, and the size of the donation, is unprecedented."
Established in 1875, The Society for the Protection and Care of Children (SPCC) is the nation's longest-standing nonprofit agency working to heal children and prevent further abuse.  SPCC currently has eight programs and services that serve over 7,000 participants throughout Rochester and the greater western NY and Finger Lakes regions annually; the Teen Age Parent Support Services (TAPSS) program, the Family Trauma Intervention Program (FTIP), the Supervised Visitation Program (SVP), the Therapeutic Visitation Program (TVP), the Healthy Families Monroe Program (HFM), the Finger Lakes Women, Infants & Children (WIC) Program, the WIC Vendor Management Agency (VMA) and the Mary Ellen Institute (MEI).  SPCC helps families find strength and stability, heal from abuse and neglect, develop healthy relationships, and better their communities.    SPCC's mission is to provide the best opportunities for a bright future by respectfully partnering with children and their families, advocating for their health, well-being and safety, and working to heal and strengthen relationships.  Healing the past, nurturing the future.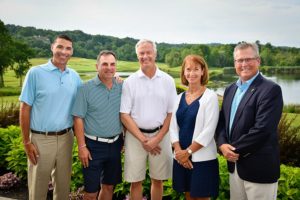 L-R: Neil Reidy, PGA, Cobblestone Creek Country Club Head Golf Professional; Tom Dow, Cobblestone Invitational Committee; Louis Fuchs, Unlink Owner and President; Lisa Butt, President & CEO, SPCC; Mike Surtel, PGA/CMAA, Cobblestone Creek Country Club General Manager  
Photo credit with thanks to John Smillie –  https://www.smilliephoto.com/