Creating our Ring of Hope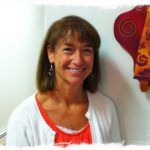 Author:  Lisa Butt, CEO of SPCC
With SPCC's 140th celebration coming up next month, we have been in full swing reaching out to community members who are passionate about the work we do.  Many of our SPCC friends have been incredibly generous in helping us make this a memorable event that honors the many, many years SPCC has been helping children in our community.  Using our blog as my platform, I'd like to take a moment to highlight one of these amazing "do-gooder" folks…
This past week, I had the absolute pleasure of sitting down for coffee with Jeff Walker and his wife, Mary.  Jeff is a local jeweler who graciously committed to creating 11 custom made necklaces to commemorate SPCC's 140th Anniversary Celebration.  I learned that Jeff first heard about SPCC and the work we do through his friendship with one of SPCC's dedicated Board members, Mary Drechsler.  Jeff explained that creating jewelry for worthy causes that are suggested by friends such as Mary is his way of giving back.  Jeff identifying us as a "worthy cause" was flattering, and I couldn't help but agree.  You see, while I am clearly biased, I can honestly say that I am constantly inspired by the work done at SPCC; I hear over and over again from families that are healed, children who are now safe, and parents that feel supported in parenting their children.  Helping bring awareness to the important work being done by our talented and skillful staff is crucial to us being supported by the community.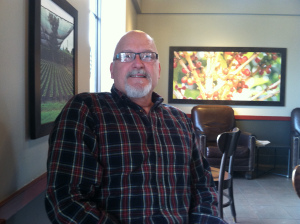 As I spoke with Jeff, I quickly learned that he is a very interesting guy!  Jeff started making jewelry at age 17, when he created his first piece of jewelry (for a girlfriend) in Shop Class at Pittsford Sutherland High School.  Jeff went on to graduate from RIT's American School of Craftsmen and started his career in creating jewelry.  I noticed that this theme of "creating" came up again and again as I chatted with Jeff and Mary.  They had a vision for their carriage house home when they purchased it, which they described as having had a dirt floor and needing a lot of work.  The property also has two barns for Jeff's many projects, so they remodeled and created something new.   Jeff not only has an interest in flying planes, but he and a friend built an airplane together on the kitchen floor of his carriage house, and Jeff has also built 2 sports cars!  My first thought was that Jeff must love to collect these vehicles, however to my surprise, he explained that he does not get attached to the items he creates, but rather he enjoys the details and process of creating.  I was lucky enough to see pictures of his most recent endeavors and I could clearly see the passion in the beauty of his work!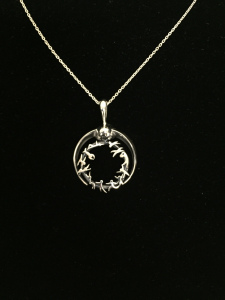 When Mary opened the velvety black box that held one of the necklaces Jeff created, I was blown away!  Mary Drechsler's daughter, Clara Kittrell, is the artist that created the "Ring of Hope", SPCC's signature logo for our 140th Anniversary Celebration.  Jeff then took Clara's "Ring of Hope" and created this beautiful and intricate piece of jewelry.  As I was looking at the piece, and sitting in Jeff and Mary's company, I couldn't help but feeling overwhelmed with honor that SPCC is the recipient not only of the actual necklaces, but of this newfound friendship.
The notion of creating really resonated with me and connects so strongly to what SPCC is all about.  We create relationships with families, help kids and parents create emotionally healthy relationships, and we partner with families to create new opportunities for growth.  In whatever way we are all "creating", I'm exceedingly inspired by the "creations" of our collective Rochester community.
I so enjoyed taking some time out to meet and get to know Jeff and Mary.  They are genuine people who clearly care about the children and families in our community, something they demonstrate through creating and sharing beauty as often as possible.  It really is through the support of people like them that SPCC is able to continue to do this work for children and families… hopefully for another 140 years!