Providing Hope
The following reflection was provided by two of our amazing SPCC staff who dedicate their time and efforts to partnering with the young people in our community, in ways that create positive change on so many levels. The key ingredient: Hope. Thank you to Jillian Quigley, BS – Health Educator and Chareddea Williams, BSW – Family Coordinator in our program for teen parents (TAPSS).
---
Day in and out we go into a variety of neighborhoods and homes, slowly becoming a part of the community and in time, becoming a small piece of what happens inside of those homes. Many social workers sign up for this work wanting to help people through problem-solving and navigating systems.  As we work with our clients, setting goals and creating relationships, we assess for needs and look for ways to meet those needs.
In the TAPSS program, we have watched many young moms come out of their homes wearing the same item of clothing that they were wearing when we saw them just a week ago – often a piece of clothing that doesn't even fit well. An old sweater in the middle of winter with holes worn through. A pair of slippers worn as shoes, because the first of the month hasn't arrived yet and winter came way too soon this year. When we ourselves muster up the courage to ask "Do you need clothes?", we often watch as the girls are overcome with embarrassment, possibly making up a story to say they have other clothing. But sometimes we actually get a "Yes. I need clothing."
In our community we have some great clothing resources that service people of all ages, but the need we were seeing in our program was unique. Teen girls, young moms – trying to discover their identity while caring for and developing alongside their own children; trying to attend school and prepare for first job interviews with nothing appropriate to wear. It was important to our team to find clothing that was both age appropriate and would also look appealing to the young moms we serve. So we began to reach out and plan for what we hoped would be a special day for these girls – a day where they could find fashionable clothing and personal items that would fit their bodies. We began close to home by asking for donations of needed items from friends, family members, and other service providers in the community, as well as put the word out via the YSQC (Youth Services Quality Council) Network as to what we were looking to do for these young moms. Donations of clothes and other personal items began to come in, filling our offices, cars and even spaces in our own homes due to a lack of storage space at the office. One of the key items most needed by the young moms in our program were bras, not just for the nursing moms but for all of the developing and growing young women who have never had the luxury of being fitted for a bra before. We were lucky enough to team up with the local Rochester Chapter of Support the Girls – a national organization that agreed to attend our event and provide free bra fittings, as well as brand new bras for the young mothers. With 60 to 75 young moms active in our program, we were unsure how many would come to such an event. As the day approached we were worried there would not be enough personal items and clothing in enough sizes.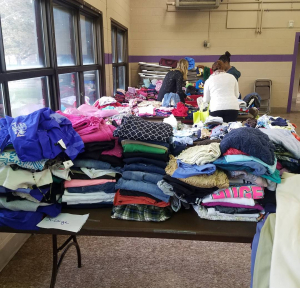 On November 15, we arrived early in the cold morning to North Street Recreation Center provided free of charge by the City of Rochester. Nine cars pulled into the parking lot, along with our team of Family Coordinators who worked to unpack the cars full of clothing, filled with hope for a really good day. We organized clothing by size, and as we began to unpack we realized we had collected a ton of clothing in every single size, possibly something for every single girl and her children. The overall look and feel of the room was amazing and it felt like we were truly doing something meaningful as it all came together. As the day flew by, we welcomed many young moms, explained the setup of the room, and helped them to find clothing for themselves and their babies. The girls shopped 'til they dropped, and many made new acquaintances as they offered fashion advice to one another. Every girl left this special place with 2-4 large sized bags of clothing, including shoes, pants, coats, gloves, purses, dresses etc., for themselves, their babies, and other family members. The best part (and one of the hardest resources to come by) were bras that fit! Our girls were able to be fitted by Lucie – the representative from Support the Girls and take home quite a few bras each.
Teen parents, just like any parent, strive to put their child's needs before their own, and often times have to access a tremendous amount of strength in order to do so. Their struggles are beyond their years, with increased obstacles and challenges as a result. A lot of the work that our program does is centered around helping to meet basic needs, while combating poverty, attempting to help end cycles of dependence and thoughtfully providing a young family with fresh hope of a brighter future. While the young moms left that day with tangible items, they also left us as professionals with feelings of gratitude that we had taken the time to do something creative that met a need. If retail therapy is your thing, then you know what it feels like to get something new that makes you feel fantastic. That was the look on their faces as they left that day. The look of magnificence as they glided out of North Street Rec, knowing someone cared enough to do this for them and that they could go home and put on something new and feel amazing.
We wish to extend a special thank you to: Lucie at Support the Girls, Youth Services Quality Council, the City of Rochester for allowing us to use North Street Recreation Center, and to everyone who took the time to donate clothing and other items! It was truly an amazing day.